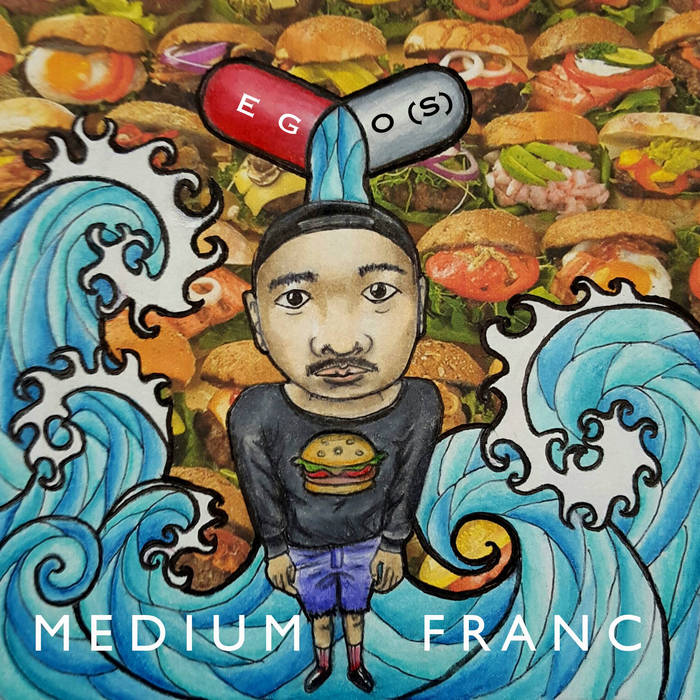 I needed at least a month (or two or three) to listen to this album.
To feel it, appreciate it, and really listen to it.
I go through 6 different phases when listening to an album for the first time.
The initial listen → when I only listen to the first couple seconds of each song and make quick judgments based on the intros; I remember the songs that instantly stick out to me
The "stuck outs" on repeat listen
→ when I only listen to the songs that stuck out to me during the initial listen
The mindless listen
→ when I play the album in the background while I'm busy doing something else and not paying attention to the music at all; I'm letting my subconscious get addicted to it
The mindful listen
→ when I carefully listen to every song, every verse, every line, every word; I pay attention to every component of each song and then gain appreciation for songs that didn't get love the first time around
The nonstop listen
→ when the whole album is on repeat; I play it every chance I get; the songs are stuck in my head
The final verdict listen
→ when I know what I like, I know what I don't, I know how I 100% feel about the album
Ego(s) Ft. HypeManWolfy | ★★★
(It's ok)
"And I have no doubts that my ego loud, see where I am now, I'm above the clouds."
Medium Franc's ego is huge, and he knows it is, but I mean look where it got him. Confidence is needed to make it in the music biz. He's been successful with his music thus far, and he isn't slowing down any time soon. HypeManWolfy's delivery is sick. I like the contrast of Medium's in-your-face approach with HypeManWolfy's laid back verse.
Thank You, Frankie Favela |
★★★★
(I really like this)
"But y'all know where I'm from, I bring LA to De Janeiro. And the League won't leave your door until you pay us that dinero."
Right off the bat, I'm diggin' the beat. That saxophone is making me feel like it's sleepy time. I'm not saying the song is boring (nah), I'm saying I love chill music that I can fall asleep to. For this track, Medium shouts out to Brazil for being one hell of a trip last year when he traveled there to attend a wedding (wow details). You can easily find Franc, just follow the money trail. Wherever he goes, he does it big. Thanks for the adventure Frankie. Now go have a new one!
Next to Go (Boys Night Out Pt. Ⅰ) Ft. Xani Devito |
★★★
(It's ok)
"It's boys night out, so I'm sorry if she lose control."
The beat to this song is like you're ready to go and conquer (f s up!).

Medium's fast delivery gets you going. Something that threw me off about this song is the "next to go" line in the hook. Before looking at the lyrics, I thought Xani was saying "she's in Mexico." That's just me though. I can't move past it. Here's what the song is about: You don't choose the party life, the party life chooses you. Grab your homies and go out looking for ladies that are down for the cause. Boys Night Out: The only rule is there are no rules.
Boys Night Out Pt.
Ⅱ | ★★★★★
(I'm in love with this)
"Wave Gang or A-League? Same sh*t, mix n match."
This is a good song to run to on the treadmill. You can almost imagine yourself running through the aves like you're part of the Wave Gang. By the way, I like the line when Medium makes a distinction between Wave Gang and Action League because that's something I've always wondered about. What's better? Wave Gang or Action League? Where do I belong? Which side do I choose? Welp, according to this line, they are basically interchangeable. Medium's choppy delivery throughout the song is dope. The part when he says "Squad, if we walk by b*tch don't say sh*t..." sooo gooood. I felt ridiculously cool when I learned that part and rapped along to it for the first time. There's so many catchy parts to this song that make me love it so much.
LOW KEY Ft. Jedeyerich, Kimo $lice, & Xani Devito | ★★★★★
(I'm in love with this)
"You believe in lies from these nerds."
Action League. We've been waiting 5 whole songs for them to come together for an epic track, and they did not disappoint. I fell in love with this song during my initial listen of Ego(s), and I fall in love with it more and more with each listen. What a delicious and catchy hook that'll get stuck in your head and will have you singing all day. I would know because it's stuck in my head right now. There's two people that stick out to me most in this song: Kimo $lice and Jedeyerich. Kimo $lice has so much swag that it hurts. He makes rapping look easy. It's like he's talking and it's just coming out like rap. Jedeyerich's style is smooth. His word play is effortless. I'm feeling Mike Shinoda vibes from him. I don't mind it. I could do without the double voice over though. I think it takes away from his words. I just wanna hear him. What's this song about? Keepin' things low key, hush hush, and very casual.
WAVE GANG APPLICATION (B*TCH BETTER BRING A FRIEND) | ★★★★★
(I'm in love with this)
What's a good party scene montage without a high energy song playing in the background? This is the Wave Gang theme song. It's the intro song you play and listen to to get into Medium's music. It's easy to like. It's a banger. It gets the party started. It's poppy. The beat is so fun and so Asian. It's got a video game vibe. I love it. I triple dog dare you: Don't dance to this song. Yeah, it's impossible. Medium's rapping style is so versatile. A fast, upbeat song calls for that style of rapping and that's exactly what Medium does. Ugh this song is so fun. I really can't stress that enough. Don't come to a party empty handed. Bring your own beer and bring your friends too! SURF SQUAAAAD!
OK Ft. King Jared | ★★★★★
(I'm in love with this)
"So of course you hatin', three point swish and of course I made it."
This is the song you listen to when you're laying in bed after a long day at work, dozing off, and staring at the wall. Trust me. I can't believe I overlooked this song before. King Jared, where'd he even come from? Maybe he was the result of Speakerboxxx and The Love Below because dude sounds like Big Boi and André 3000. I was stunned when I heard his verse. I was definitely not expecting him to sound like that. Very good sir! To be honest, I'm not sure what this song is about, but... To me, the repetition/fading of "ok" in the song represents the numbness of how people go along with things they don't particularly want to be involved with. She wasn't into taking shots, but she was at the wrong place at the

right time, so why not take the shots? Everyone else is on something, so why not?
MOLLY MCGUIRE Ft. Xani Devito | ★★★
(It's ok)
"That Molly McGuire. She's gettin' me higher."
The intro is intriguing. I like it. I had to give this song a few listens before I started to like it. Medium's flow fits so well with the beat in his first verse. He knows how to switch up his style to fit the mood of the song. I like the beginning of Xani's verse, but then it starts to sound very similar to his previous verses from other songs which turned me off. The song then turned around for me when a throwback to Slow Jamz got thrown into the mix. Xani shines with his second verse. Boy can sing. Anyway, the meaning of this song? Look at the title.
VROOM Ft. Xani Devito & HypeManWolfy | ★★★★★
(I'm in love with this)
"

New job, 401-K, got bank.

Take vay-cays on pay day."
Ugh I love this song. You know this though. I rated it 5 stars. The Wavy Airlines intro. So good. Medium is asked to take his seat. Classic. Medium and Xani switching off lines in the beginning absolutely slayed me. I get some major D12 vibes with this song. The hook is strong. Congratulations HypeManWolfy, you are the hook making master. Medium is so good at speeding up when he needs to. It always works and sounds so good. Xani, oh Xani. These verses are his best on the entire album. I want more of this Xani. VROOM is the squad song to jam to when you are on your way to the club. For me, the song is about how nice it is to make a lot of money and travel wit cha boys.
I MET A B*TCH ONE TIME Ft. Action Biker | ★★★
(It's ok)
"That even women be pimpin."
The Action Biker sample is pretty cool. Medium isn't afraid to step outside of the rap constructs and make beats out of anything, and I think that's commendable. At first I wasn't sure if I was into the beat, but I started to appreciate it more when I realized it was a daring move and something experimental for Medium. But I just don't feel the inclusion of Hotline Bling because it throws me off. This song is about (and I'm just guessing here) meeting a girl, playing her, and realizing she can play you too.
Slide? [Anti-Ego Interlude] | ★★★★
(I really like this)
"

How funny you strategically, s

tay out too late just to be with me a

nd sleep with me, creep with me."
The R&B really kicks in once Medium sings "I say I know you're only calling to come through." I love when Medium sings. He sounds good. There's something calming about his voice in this song. Again, the hook is gold. Getting the hook stuck in my head made this song grow on me. I love the BART reference. Shout out to Bay Area life! Also shout out to The Weeknd. You inspired Medium with this line... "You only call me when it's half past one. Turning up with your girls but for now you're all alone." I first heard that line and thought, "why does this sound so familiar?" This line drove me crazy. I couldn't figure out where it came from. I gave in and finally googled it. Boom. The Hills by The Weeknd. But what made me really like Slide?? The meaning behind it. No matter what they've been through and are going through, he's got his girl's back. The song is pretty sad actually because even though she pushes him away and pretends she doesn't want him, he still loves her and lets her know that there's always room for her in his life. Curious about the music video for this song? Watch it here.
Live Good | ★★★★★
(I'm in love with this)
"But the city never sleeps, so how can I find inner peace?"
Listen to this song carefully. The lyrics are beautiful and hits home in a way for me because this song speaks to the Millenial generation. Live Good depicts the struggle of young adulthood. Learning how to balance work and play, being responsible, and getting the hang of being on your own for the first time is difficult. Add in substance abuse and the constant noise of society, media, and a damaged psyche and adulthood just becomes an impossible battle between you and the world. But what I love that Medium does is that he switches from struggle to success. "I'm young and fly. Ain't nobody ever live if they scared to die." Despite the not-so-fun parts of young adulthood, there are wonderful parts to embrace. The world is your oyster. It's your life, and you must LIVE GOOD.
Hide Ft. The Radio Dept | ★★★★★
(I'm in love with this)
"And then he's gone, n

ever put up a fight.

You think you know someone, right?

Maybe you never did, and how that scares you."
Medium sampled Pet Grief by The Radio Dept., my favorite band of all time. Since Medium is a whiz at making beats, I so wanted him to make a beat out of a Radio Dept. song. I knew the beat would be dope, but I never expected this. If you want to know a little secret...I cried the first time I listened to this song. It's impressive how Medium used the lyrics of Pet Grief to aid his own lyrics and really prove a point that he's vulnerable. He puts up a facade because sometimes it's just easier. He hides behind the party scene because he doesn't know what else to do. People expect Medium to have a big ego, to be loud, to say ridiculous things, but the reality is, he doesn't want to be all those things most of the time. "

I'll shut my mouth for you.

Anything you want me to." Medium feels powerless against his peers and ends up giving into the expectations. He'll be what you want him to be.
Ye Ft. Kimo $lice | ★★★★★
(I'm in love with this)
"But mama told me bout b*tches like you."
Medium Franc and Kimo $lice??

Daryl Hall and John Oates????

Is it just me, or is this symbolic or what? I mean, who doesn't love epic duos?! The whole storytelling aspect to this song has got me feeling all of the feelings. The writing is so good. Medium meets a girl, is totally sprung, then is totally exhausted by the end of the relationship. The lyrics are so personal. Medium is putting it all out there, and in a little over 5 minutes, you know exactly what went down. Kimo's verse is straight fire, but I especially love the last few lines.

"I told her girl quit playin so I had to leave her..." His delivery is so cool. The entire song is super cool, and it's easily one of my favorites on the album.
Might Work Ft. HypeManWolfy | ★★★★
(I really like this)
"

A tornado flew

around my room, s

o I assume that we'll come around soon."
I took notes on every song as I listened to them one by one. For this song I wrote, "so real, so powerfully heartbreaking." Might Work is about an unhealthy relationship where both sides are using and abusing each other. They are too afraid to be vulnerable with each other, and so they keep their guards waaay up. Too up. Then the thing between them becomes a game. Whoever is more distant and detached wins. It's sad because there's actually a possibility that they could make things work, but they are too caught up with not wanting to feel too much so they don't work.
Power Lines [Ego(s) Pt. Ⅱ] | ★★★
(It's ok)
"

I can't blame if you can't relate with m

y lifestyle choices and my fashion statements."
She drives him insane, but he still wants only her. He'd do anything for her, and he has. But he is so replaceable to her. Despite everything he was giving up for her, she wasn't feeling him anymore. When she comes running back to him, he takes her back. It's an endless cycle. This is a song about heartache by Medium.
Overall, the album is impressive. Medium is so talented in a numerous amount of ways, and it's clear that he's only going to get better. People make music all the time in the comfort of their homes, but a lot of the time it screams amateur hour. What initially left me speechless was the professional and quality finish on every part of the album. I thought, "wow, Medium (with the help from the League) put together every little bit of this together on his own. Wow." Then looking at the work itself. Wow. Some songs I didn't feel as much as the other songs, but I could tell Medium put 200% of himself into it. That's a powerful thing to feel when taking in someone's art. Out of everything that I experienced while listening to EGO(S), I would say I appreciated the dedication the most. The details, the most important stuff to me, were all well thought out. Medium is so versatile. If a song needed to elicit a specific vibe or mood or whatever, he'd make it possible. It's so difficult for me to put into words, but bottom line is that kind of talent is so special and unique. Medium is one of my best friends. He's also family. I know him quite well on a personal level, but I think getting to know him creatively was an amazing experience all on its own. I connected with him in a way I never have before. We've had long, heart-to-heart conversations that have lasted hours. We grew up together. We lived together. I'm finally meeting a side I've never met before. I think this album is special to me because I'm listening from a rare perspective. I'm able to appreciate the little things and read between the lines. But even as a first listener, this album won't disappoint. Take your time with it. Have your initial listen, mindless listen, and nonstop listen until you get to your final verdict. Ride the wave. Pay attention to every word. It'll be worth it.
Final Rating
EGO(S) |
★★★★
(I really like this)
Download the album here.